Out'n About for Outlook Client Version 4.0
Mitchell Sholly
Its an exciting time here at Intelligent Concepts, makers of the Out'n About line of Status board software. We've just released our biggest update to the Outlook client of Out'n About to date.
This update brings amazing things such as an completely overhauled interface, with a beautiful new status board design. Now its easier than ever to see who is checked in.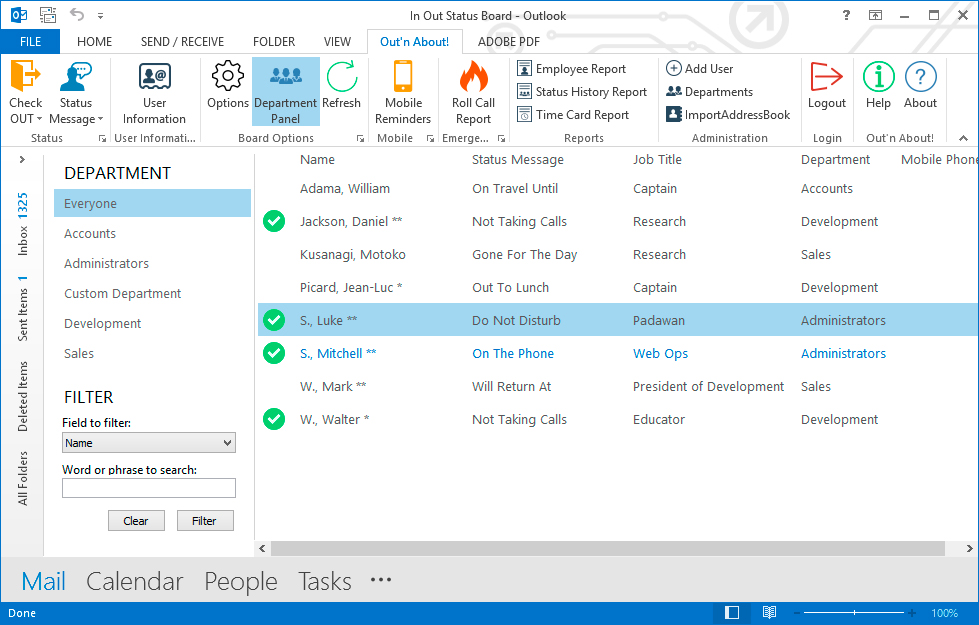 Ever notice that the refresh button in version 3.3 might not have worked properly? If you didn't notice, great! If you did notice, don't worry we fixed it.
If you rely on Out'n About for Outlook for Time Card Reports, Status History Reports, and other reports – we've redesigned all of the reports. You'll enjoy a user friendly and easy to read HTML report.
Fire drill? Out'n About can help you with that. Easily print a Roll Call Report and have a convenient way to mark your employees present and away during your fire drill.
We're also fully compatible with all versions of Outlook, including Outlook 2016.
Here's a full change list
Outlook Add-in v4.0

——————-

+ About box no longer just a logo – large font product name like server

+ Setup support for Outlook 2016 x86 and x64

+ Help points to intelligent concepts knowledge base

+ Removed system menu and 'little guy icon' from all dialogs

+ Renamed "OutAboutComm.log" to "OutAboutTCPIP.log"

+ Modified Options property sheet to have Outlook options look and feel. Merged Mobile Reminders and Status Messages dialogs into Options.

+ Added Board Options to the ribbon menu

+ Modified icons to Outlook 2013/2016 look and feel

+ Passwords are case sensitive

+ Install now shows progress bar when registering addin (instead of blank screen)

+ Added message to indicate password change successful (did not have a message before – just closed dialog)

+ Fixed Refresh button on ribbon bar to actually work!

+ New HTML report formats

+ Added Emergency Roll Call report (setup via Options)

+ Completely new board look and feel

+ Added support for icons when ribbon bar collapses group items