Have an OLDER VERSION of Out'n About?
Update for free!
Version 4.1 of the Outlook client has been released on March 27, 2017. Adds new features, bug fixes, and more. For notifications of updates, just add your email to the release notification list.
Out'n About for Outlook
Use the following links to update your version of Out'n About! for Outlook (supports both Outlook 32bit and 64bit). After downloading Out'n About! to your PC, follow the Out'n About! installation instructions in the Out'n About! for Outlook Administrators Guide.
If you wish to use Active Directory/Group Policy Objects deployment for the Out'n About! for Outlook Client a MSI download is also available.
Outlook 2000 Outlook 2002 Outlook 2003 Outlook 2007 Outlook 2007 Outlook 2010 Outlook 2013 Outlook 2016 Office 365 Installed Outlook
Windows 98 Windows ME Windows NT4 Windows 2000 Windows XP Windows Vista Windows 7 Windows 8 Windows 10
Update Newsletter and Recent Changes
Version History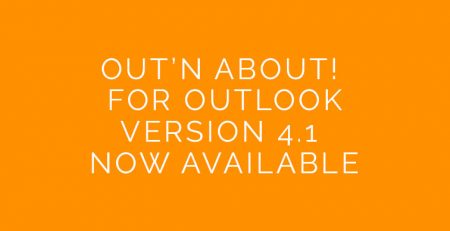 Introducing Out'n About! for Outlook 4.1 We're thrilled to announce brand new enhancements to help you manage your workforce's current availability with...
read more
Just updates, no spam.
Get notified of Out'n About product updates.